A Dozen Notable 2018 Blog Posts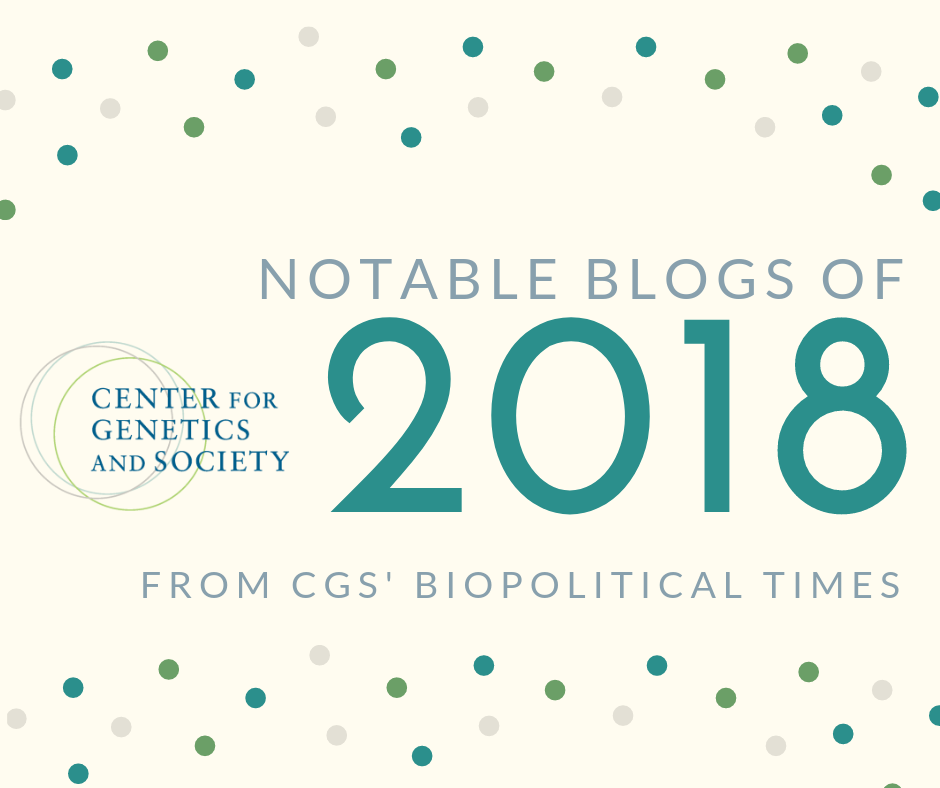 Following a Biopolitical Times tradition, we present some of our favorite blog posts of the past year, in chronological order. As ever, a wide range of people contributed; most wrote more than one post – apologies to anyone whose favorite of their own work was not selected. There are certainly many more worth your time, which can be found at the Biopolitical Times archive; scroll down and "VIEW MORE" as needed. 
Thanks to all the contributors – guests, staff and consultants – and we look forward to publishing another wide range of voices in 2018. We invite everyone to subscribe to our monthly newsletter, Biopolitical Views & News, where you can keep up with our latest blog posts, CGS-authored commentary published elsewhere, and a selection of crucial news articles about human biotechnologies.
---
Pop Culture and Policy: Can Works of Art Shed Insight on Synthetic Embryos?
by Katayoun Chamany
A scholarly article is unlikely to effectively encourage public input on the social implications of new biotechnologies. What if we looked instead to artistic endeavors and popular culture for inspiration?
A Bill to Compensate Survivors of Eugenic Sterilization in California
by Emily Galpern
SB 1190 was intended to compensate people who were involuntarily sterilized under California's twentieth-century eugenics laws. Despite unanimous approval in the Senate, it stalled in the Assembly Appropriations Committee; we hope for success in 2019.
3-person IVF and Lesbian Motherhood: A Flawed Argument for Reproductive Equality
by Leah Lowthorp
A recent paper arguing that nuclear genome transfer (aka 3-person IVF) should be an option for lesbian reproduction privileges genetic relatedness achieved through unsafe, experimental technologies over social and legal efforts to protect the diverse family formations already in existence. 
Women's bodies, women's identities, and the next chapter for Our Bodies Ourselves
by Gina Maranto and Marcy Darnovsky
Our Bodies Ourselves has announced that it will cease updating its print and online information, but OBOS' founding vision of the close ties between women's health and social, environmental, and political conditions provides a solid foundation for the organization's new era and an inspiration for others.
"Race" and "IQ" Yet Again
by Pete Shanks
A essay by David Reich in the New York Times provoked yet another storm of controversy surrounding race and IQ. The essay revived harmful, discredited ideas while bringing little that is new to the conversation.
Post-Graffiti Colossal Bizarro Babies: Softening us up for Engineered Infants?
by Gina Maranto 
Do street art renderings of outsized, muscled human babies that resemble aliens or chimeras make a future of genetically engineered babies seem more acceptable? 
"Flipping Out" Over Consent and Privacy: When Surrogacy Meets Reality Television
by Alyssa M. Newman
The woman contracting to be a surrogate wanted to "balance the playing field" for gay couples struggling to start families. But the fallout of their arrangement reveals the deep power inequities that underlie relationships between surrogates and commissioning parents. 
 
Public and policy makers grow suspicious of genetic testing companies—for good reason
by Adam O'Regan 
Who exactly does have access to consumers' DNA? That question has now become a topic of Congressional concern. 
Genes for Success? Not Exactly
by Pete Shanks
Two genome-wide association studies encourage the use of genetics to suggest environmental interventions, and are misinterpreted as identifying genes for success.
 
UK's Nuffield Council Releases Report on Human Genome Editing
by Katie Hasson
The report, which offered an implicit endorsement of human reproductive germline editing, drew a variety of reactions and interpretations.
Students Create Online Resources about the US Eugenics Movement
by Audrey Kalman
High school students produced an online textbook and museum exhibit to inform people about the history of the eugenics movement in America, and particularly in California's recent past.
Risks Versus Ratings: How Will Michelle's Memoir Reframe Conversations Around Infertility?
by Ayesha Chatterjee
Michelle Obama is more than her fertility, and there is more to treating infertility than meets the eye. I agree with her fundamental assertion: that the worst thing we do to each other as women is not share the truth about our bodies.