A Bill to Compensate Survivors of Eugenic Sterilization in California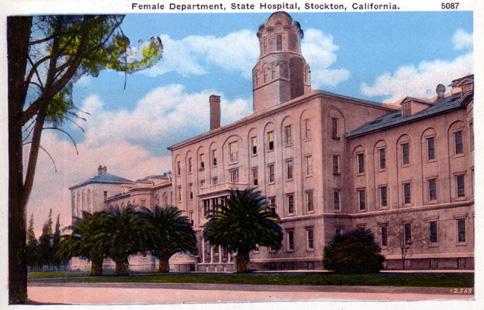 September 6 update: Unfortunately, SB 1190 will not become law this year. Despite having been unanimously approved by the full California Senate and an Assembly committee, it did not pass through an August 16 meeting of the Assembly Appropriations Committee. The bill had the support of a large coalition of social justice organizations (see a full list on this fact sheet). CGS and our allies are disappointed at this outcome, but look forward to the possibility of advancing a powerful campaign on behalf of the survivors of California's eugenics laws in 2019, with a new governor and new legislators. A victory already sparked by the effort to pass SB 1190 is a resolution by the Los Angeles County Board of Supervisors to support the bill, issue an apology to the women who were involuntarily sterilized in Los Angeles County+USC Medical Center between 1968 and 1974, and install a plaque on the campus.
June 27 update: The Assembly Public Safety Committee unanimously approved the bill on June 26th, and it will next be heard by the Assembly Appropriations Committee.
May 31 update: The California Senate passed SB1190 unanimously and it will move on to the Assembly. More news to come.
April 17 update: SB 1190 was unanimously approved by a California Senate committee, and will next be heard by the Senate Appropriations Committee. Check back for more news.
April 10 update: See a fact sheet on SB 1190, the Forced Sterilization Compensation Act, with a full list of supporting organizations.
California finally has the opportunity to right a wrong that has long gone unaddressed: introduced this legislative session, SB 1190 would compensate people who were involuntarily sterilized under eugenics laws that were on the state's books for almost three-quarters of the twentieth century.
According to bill author Nancy Skinner, "We can never fully make up for California's forced sterilizations—since so many who were hurt are no longer with us," said Skinner. "But for those still alive, we can do better by finally providing restitution."
In 1909, as the U.S. eugenics movement was gathering steam, California legislators passed a bill authorizing medical superintendents of state homes and hospitals to sterilize patients they deemed "unfit for reproduction." California went on to administer the most active eugenic sterilization program in the nation, affecting more than 20,000 people, one-third of those sterilized under similar laws nationally. All were classified as people with disabilities. Women—and Latinas in particular—were sterilized at disproportionate rates. This law was not repealed until 1979.
SB 1190, the "Eugenics Sterilization Compensation Program," would provide some redress to those involuntarily sterilized under this state-led program. It would also reinforce a commitment to prevent such abuses from happening in the future.
Policy leaders in California took initial steps in 2003 to acknowledge the harms done in the name of eugenics: At that time, Governor Gray Davis, Attorney General Bill Lockyer, and the state Senate each apologized for California's eugenic sterilization program. However, no action beyond that was taken.
"For 70 years, it was legal for Californians to be sterilized just because they were disabled or somebody thought they were disabled. California's Sterilization Compensation Bill helps provide redress to disabled survivors who were wrongly sterilized against their will. Taking responsibility for this injustice is the necessary next step to guard against future state-sanctioned abuse and discrimination," said Susan Henderson, Executive Director of Disability Rights Education and Defense Fund (DREDF).
Laura Jimenez, Executive Director of California Latinas for Reproductive Justice (CLRJ), said of the bill, "The legacy of California's eugenics laws is well-known and their repercussion continues to be felt. As reproductive justice advocates, we recognize the insidious impact state-sponsored policies have on the dignity and rights of poor women of color who are often stripped of their ability to form the families they want. This bill is a step in the right direction in remedying the violence inflicted on these survivors."
According to Alexandra Minna Stern and her colleagues, there were an estimated 831 survivors in 2016 with an average age of 87.9 years. The research team led by Stern, a historian at the University of Michigan and member of CGS's Advisory Board, estimates that in 2019, when SB 1190 would go into effect, there will be an estimated 631 survivors who could receive compensation. Money will not correct an act that took away people's reproductive capacity, but compensation would provide some sort of redress beyond the language of an apology.
The key element of SB 1190 is monetary compensation. The bill also requires the establishment of markers or plaques at designated sites acknowledging the involuntary sterilization of thousands of people, as well as the development of a traveling historical exhibit and other educational opportunities about California eugenics laws. The exhibit and educational activities would demonstrate the far-reaching impact these laws had on California residents, in particular people with disabilities, women, Latinas and Latinos, and poor people.
The bill also acknowledges two additional known periods of coerced sterilizations in California, one that targeted Mexican-heritage women who delivered babies at USC/LA County Hospitals from 1965 to 1975, and another in which female inmates in California state prisons were sterilized without proper authorization from 2006 to 2010. Hopefully this bill would provide a foundation from which to compensate women sterilized involuntarily during these eras as well.
If SB 1190 becomes law, California would join North Carolina and Virginia, the only two states who have so far allocated funds for eugenic sterilization compensation. Thirty other states, including California, had eugenic sterilization programs in the 1900s.
Existing biotechnologies, and others that are on the horizon, make another kind of eugenics framework possible: one that is consumer based. California is a center of the multi-billion-dollar fertility and biotech industries. Embryo selection technologies often accompany assisted reproductive procedures. Developed to allow families at risk of passing on life-threatening conditions have unaffected children, they are now used and marketed for a much wider range of conditions. In addition, powerful new gene editing technologies are being studied, and there is emerging pressure to allow their use to alter the genes and traits that would be passed down to future generations.
Misuses of human genetic and assisted reproductive technologies threaten to create a hierarchy of desirable genes—a new market-driven eugenics. Underlying both this and the coercive state-sponsored eugenics of the twentieth-century are notions about whose lives are more or less worthy. These assumptions reflect historical and oppressive attitudes about women, people with disabilities, people of color, and poor people. The similarities and differences among past eugenics programs, current practices, and potential future developments have been discussed at several Bay Area conferences organized by the Center for Genetics and Society and partner organizations (Future Past: Disability, Eugenics, & Brave New Worlds and Eugenics in California: A Legacy of the Past?). These matters demand thoughtful analysis and debate, taking into consideration the history of eugenics abuses overseen by the state.
Survivors of California's state eugenics program deserve compensation immediately: the longer we wait, the fewer will be alive. SB 1190 would ensure the right thing is done before it's too late.
SB 1190 is authored by state Senator Nancy Skinner, with principal co-author Assemblywoman Monique Limón and co-author Senator Jim Beall. Organizational co-sponsors are California Latinas for Reproductive Justice (CLRJ) and Disability Rights Education and Defense Fund (DREDF).
Please support SB 1190 by emailing the Senate Health Committee by April 4th. For a sample support letter and more information, contact Emily Galpern at [email protected]
Note: For a newly published article by Alexandra Minna Stern's research team documenting the disproportionate rate of sterilization of Latinos, see "Disproportionate Sterilization of Latinos Under California's Eugenic Sterilization Program, 1920–1945" and for further discussion, see "Forced Sterilizations in California Once Harmed Thousands—particularly Latinas."
Image from Alex Wallerstein