Human Gene Editing Initiative: Public Meeting on Race, Religion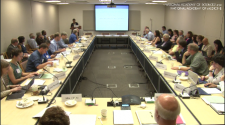 Should CRISPR gene editing tools be used in human embryos prior to birth to re-engineer genes linked to disease risk? The question is being approached by the Human Gene Editing Initiative of the National Academies of Sciences, Engineering & Medicine in a series of meetings.
On July 12, the Initiative held the fourth meeting of its Consensus Study committee focused on "race and genetics in US history, and the intersection of moral views and public policy".Speakers on the agenda included Alondra Nelson (Columbia University; The Social Life of DNA: Race, Reparations, and Reconciliation After the Genome), Keith Wailoo (Princeton University), NIH director Francis Collins, and Ronald Cole-Turner (Pittsburgh Theological Seminary). The slides and video are available here.
As we've done frequently this past year during public meetings on #CRISPR gene editing, CGS livetweeted the event using #GeneEditStudy. We collected our favorite tweets from the day in a Storify embedded in a slideshow below. (You can also check out the hashtag #GeneEditSummit for commentary on Twitter during the first meeting of the National Academies initiative on December 1-3, 2015 in D.C.)
Previous meetings of the Consensus Study initiative have focused on:
The Consensus Study is expected by the end of 2016.
Previously on Biopolitical Times:
Image via National Academies