Fox Sports and 23andMe rooting for an ancestral goal at the World Cup: What can possibly go wrong?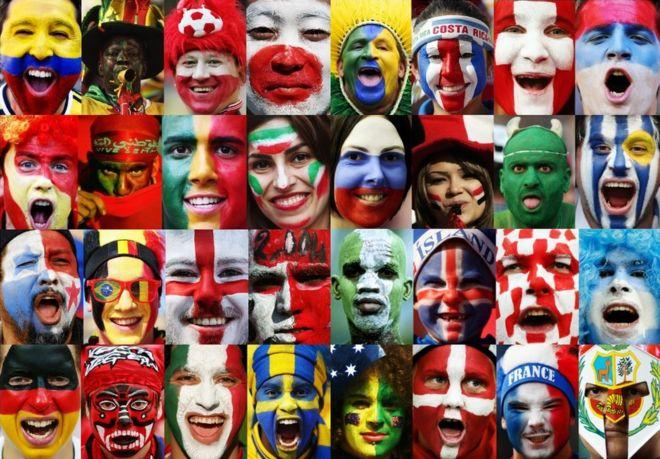 It's time again for the one sporting event that has literally stopped wars. Beginning on June 14, the World Cup will consume roughly half the world's population for an entire month. For fans of the game, it will be like waking up on Christmas morning every day. And if you're in one of the 32 countries whose national team is lucky enough to participate out of the 208 countries who strive to be there, the World Cup is an obsession beyond what you've ever imagined. All this awaits those of us who are fans of "the beautiful game" at the upcoming tournament in Russia.
In the United States, we'll be watching on Fox Sports, which is broadcasting the games for the first time. With the US National Team not qualifying for this year's tournament, Fox has rolled out a marketing campaign with an "official partner," the DNA testing and aggregating company 23andMe. The 30-second ads, called Root for Your Roots, promote the idea that viewers should support a national team based on their genetic ancestry. "You may not speak the language or have visited the country," the narrator says. "You may not know their heroes. But we're all connected to a World Cup nation through our DNA."
According to 23andMe's vice president of consumer marketing Tracy Keim, the company hopes "this collaboration becomes a new way for people to experience global events like the World Cup." 23andMe wants to "create an authentic experience that can open our minds and bring people together to celebrate diversity, and our global teams rooted in our DNA."
To Ad Age, this is "an inspired marketing initiative." To me, it's completely tone deaf.
Many Americans still do not fully recognize the passion that surrounds the World Cup. The ardor that accompanies this single event can bring together warring factions in a civil war, as it did in the Ivory Coast during the 2006 World Cup qualifications. In contrast, a 1969 qualification match between Honduras and El Salvador led to a 100-hour "soccer war." And let's not forget Andrés Escobar of Colombia's national team, who was killed upon returning home after the 1994 World Cup, reportedly as a result of scoring an own goal in the game against the U.S.
Even within a nation, soccer can fuel boiling tensions, as it has in what is arguably the game's bitterest rivalry – the one between the Scottish Rangers and Celtics. These teams' identities are built on opposition to each other in politics as well as religion. Murders and countless assaults have been blamed on the enmity over the years, and Scottish police now work vigilantly to confront the domestic violence that erupts on days when the teams play.
Such animosities have been further amplified in the "modern game," in which players increasingly "migrate" to different club teams from anywhere in the world in order to command larger payments. In some leagues, resentment has boiled over into hatred and racism towards players of different nationalities. The situation is so bad that FIFA, the governing body of football/soccer and organizers of the World Cup, has been trying since 2006 to confront it, with varying degrees of success. A campaign introduced that year, called "Say No to Racism – My Game is Fair Play," was supposed to unite fans and supporters with their respective club players. But hatred and racism are still found at some of the highest- profile competitions.
Given this history, why would Fox Sports and 23andMe want to "stir the pot" by promoting a technology — ancestry testing — that has the potential to increase group identity and chauvinism?
And that's not to mention the extremely questionable accuracy and reliability of the technology itself. Results from ancestry test can vary widely, depending on the proprietary database of DNA samples on which the company relies for their results. Even the same company can offer incompatible answers: a set of triplets were given three different results from their identical DNA.
Another problem is that testing services use DNA from modern populations to draw conclusions about people who lived in specific areas hundreds or thousands of years ago. It's a big leap to assume that these populations have remained constant for all that time. As bioethicist Art Caplan recently stated, ancestry testing is "built on bogus science about the genetics of how we define nations and ethnic groups."
23andMe claims that they want to "celebrate diversity." In truth, as my colleague Leah Lowthorp pointed out in her blog discussing Ancestry.com and the recent Winter Olympics, studies have shown that ancestry testing instead serves to "reinvigorate age-old beliefs in essential racial differences."
By the way, if you do take an ancestry test "just for fun" you should know that you are handing over control of your most basic personal information to a company that will profit from it even after you've deleted your account. 23andMe will retain your information and if you previously gave consent for it to be used in research, that data "cannot be removed from ongoing or completed studies that use that information." Moreover, and even more worrisome: "If you choose not to complete a Consent Document or any additional agreement with 23andMe...your data may still be used by us and shared with our third party service providers."
Why rely on something that has been shown to be at best inconclusive and at worst completely inaccurate simply to pick a national team to cheer for? Instead, if your own nation is not represented, as the U.S. is not this time, why not simply root for the nation of your favorite club player? Many stars from around the world have played in Major League Soccer. Or you could choose, for instance, Lionel Messi (Barcelona and Argentina), Cristiano Ronaldo (Real Madrid and Portugal), Neymar (PSG and Brazil), Mohamed Salah (Liverpool and Egypt), Son Heung-min (Tottenham and South Korea) — you get the idea!