CGS Year In Review: The Fight for Genetic Justice in 2019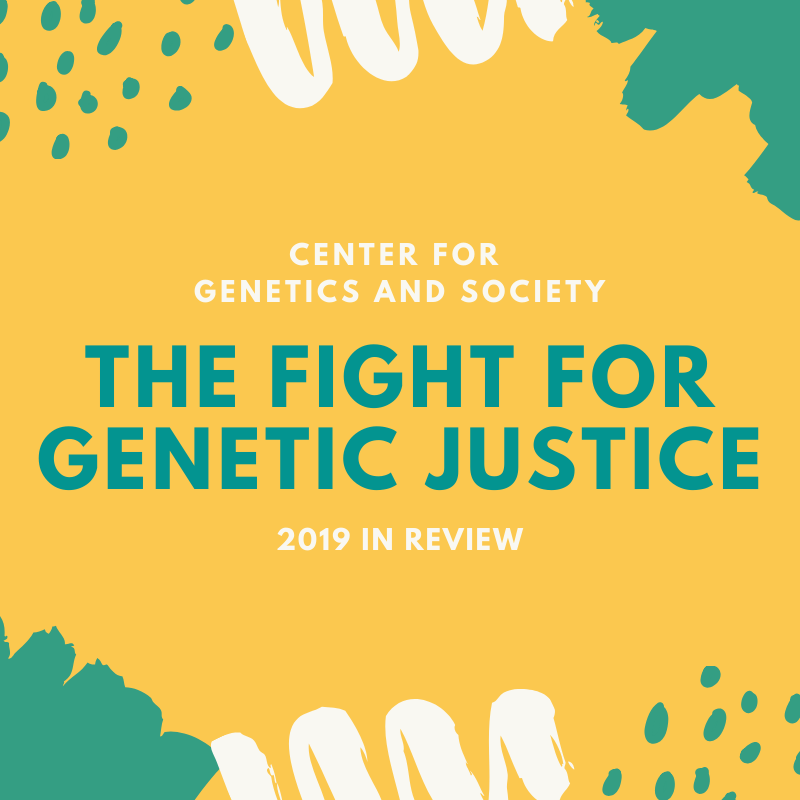 2019 was a year of challenging conversations, disturbing developments, and glimmers of hope for bioethicists, advocates, scientists, and concerned citizens who monitor misuses of human biotechnologies and the markets that surround them. If you follow CGS, you know we used our media influence, our social media channels, and Biopolitical Times to elevate voices that need to be heard and to advocate for a human future in which no one is judged by their genes.
Here are a few highlights of our work in 2019.
Center for Genetics and Society v. Becerra
Throughout 2019, CGS & our co-plaintiffs, including the Equal Justice Society, fought to protect the genetic privacy of people arrested but never convicted of felonies in California. Read more about our lawsuit to stop the State's misuse of DNA data here.
Climate Change, Designer Babies, Our Common Future
In October, we welcomed an overflow audience to a lively and thought-provoking conversation between scholar john a. powell and activist and author Bill McKibben about the connections between climate change and heritable genome editing. Read the highlights and watch the video here.
Scientists Can't Be Trusted on Gene Editing
Writer Pete Shanks reached millions of readers with his insightful op-ed about what we can learn from the "circle of trust" surrounding He Jiankui, who created "CRISPR babies" in a recklessly unethical human experiment; the "nerd tunnel vision" that allowed Jeffrey Epstein to move in elite scientific circles and promote his eugenic ideas; and why we need the pending US Senate resolution on heritable gene editing more than ever.
We're thrilled to be working with Our Bodies, Ourselves, We Are Egg Donors, and other global partners on the new-and-improved Surrogacy360, a set of web-based resources focused on the health, legal, and ethical issues surrounding international commercial surrogacy.
Why Use CRISPR to Edit for Deafness?
When Russian scientist Denis Rebrikov announced he would use CRISPR to edit embryos for congenital deafness, we took to Twitter to unpack his ableist assumptions and why his declaration was further evidence of a need for a moratorium on heritable genome editing.
Disability Rights and Heritable Genome Editing: Resources for Teaching and Learning
After Denis Rebrikov announced he wanted to use CRISPR to edit for congenital deafness, we put together this selection of resources to build understanding of how ableism can distort narratives about biotechnologies.
Twenty Years Later, What Have We Learned from Jesse Gelsinger's Death?
Jesse's death was a tragedy of misconduct, greed, and ambition. In this article marking the anniversary of the 18-year-old's death, writer Pete Shanks reflects on what we've learned, not only about gene therapy, but about the failures of passive oversight and self-regulation.
We Don't Need More Reasons to Reject Heritable Genome Modification
In June, a study emerged criticizing He Jiankui's "CRISPR babies" experiment on the grounds that his intended edits would lower the age of mortality. CGS Director of Genetic Justice Katie Hasson responded with this op-ed for The Hill reminding us that—study or no study—heritable genome editing under any circumstances is irresponsible and dangerous.
A Conversation with Tina Stevens and Stuart Newman
We sat down with the authors of Biotech Juggernaut: Hope, Hype, and Hidden Agendas of Entrepreneurial BioScience to talk about the inspiration for their book and how they see the application of genetic technologies to the human species playing out in 2019.
In this Twitter thread, we pointed out how the desire for power and control links to both eugenics and sexual assault. Both view the bodies of women, children and others perceived to be weak as disposable means toward narcissistic ends. Both confuse privilege and access for superiority and entitlement.
An Evening With George Estreich
We were lucky to have a reading and discussion with George Estreich about his book Fables and Futures, which restores disability to our narratives about human biotechnologies. Read more about the event and watch the video here.
The Wrong Way to Make Policy About Heritable Genome Modification
Did you know that just months after learning about the wildly unethical "CRISPR babies" experiment in China, the US Congress almost removed the only policy that prevents such abuses in this country? Learn more about what happened in this op-ed by Marcy Darnovsky for The Hill.
More Than a Misstep: The NAS Twitter Debacle
The National Academy of Sciences ended up with a PR nightmare on its hands after releasing a strange Tweet, video, and collection of "educational assets" normalizing the concept of heritable genome editing and glorifying its possible uses for human enhancement. Writer Pete Shanks analyzed the events.
Scientists Disagree About the Ethics and Governance of Human Germline Editing
In this sobering article for the Hastings Center's Bioethics Forum, CGS Executive Director Marcy Darnovsky and renowned bioethicist Françoise Baylis reminded us that, despite the appearance of agreement, ethical questions that have surrounded human germline editing for years have yet to be properly addressed.
Thank you for following our work. If you don't already, we encourage you to subscribe to our newsletter and follow us on Twitter and Facebook.