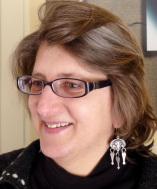 Alexandra Minna Stern, currently the associate dean for the humanities at the University of Michigan's College of Literature, Science, and the Arts, will be the new dean of humanities at the UCLA College. Her appointment is effective Nov. 1.
Stern is the Carroll Smith-Rosenberg Collegiate Professor of American Culture at Michigan, where she also holds appointments in history, women's and gender studies, and obstetrics and gynecology. Her research has focused on modern and contemporary histories of science, medicine and society in the U.S. and Latin America, and, most recently, on the cultures and ideologies of the far right and white nationalism.
She is the founder and co-director of the Sterilization and Social Justice Lab, an interdisciplinary research team that explores the history of eugenic sterilization in the U.S.
Stern has two prior connections to the University of California: She earned her master's degree in Latin American studies from UC San Diego, and later, from 2000 to 2002, she was a faculty member at UC Santa Cruz.
Stern said she looks forward to providing creative and responsive leadership in her new... see more