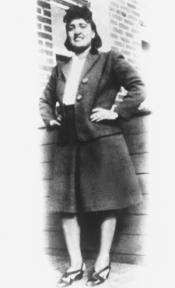 A life-size bronze statue of Henrietta Lacks, the woman whose cancer cells were taken without her consent and were used for research that ushered medical discoveries and treatments, will be erected in her hometown, Roanoke, Va., next year in a plaza previously named after the Confederate general Robert E. Lee.
Roanoke Hidden Histories, an organization dedicated to acknowledging Black history in the community's public spaces, raised more than $183,000 for the project.
In a news conference announcing plans for the statue on Monday, a local artist, Bryce Cobbs, presented a preliminary black-and-white drawing of Ms. Lacks wearing a blazer and a knee-length skirt with her arms folded. The sculptor, Larry Bechtel, will use the drawing as a reference to design the statue on a stone base.
Mr. Bechtel said he would first make a two-foot model based on the drawing and then make a second, six-foot model that will eventually be molded and cast into bronze. "Hopefully, if everything goes right, we will have an unveiling of this splendid sculpture next October," Mr. Bechtel said.
Ron Lacks, Ms. Lacks's... see more