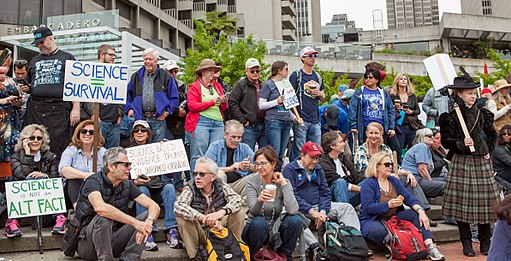 An open letter, signed by current and former members of the group, set off the latest round of complaints about its leadership.
On April 22, more than a million people took to the streets, in Washington, D.C., and over 600 satellite locations around the world, to march for science. But six months later, the eponymous organization behind those gatherings—March for Science (MFS)—is still struggling with many of the same issues that have troubled it since its conception.
On Monday, Aaron Huertas, the former communications lead for MFS, posted an open letter that called out the group's leaders for creating a culture beset by miscommunication, opacity, and disorganization. "Though the organization calls itself an open, grassroots movement, it is run like a closed, hierarchical organization," the letter says. Seven other people told The Atlantic that their experience of working with March for Science was consistent with the open letter. "I really do think everyone has the best intentions, but not everyone has the skill sets they need to run a grassroots organization," Huertas says.
As an example, Angela Carpio,...