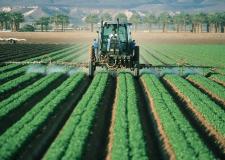 Agriculture giant Monsanto has licensed CRISPR-Cas9 genome-editing technology from the Broad Institute for use in seed development, the company announced on Thursday, a step that will likely accelerate and simplify the creation of crops that are resistant to drought or have consumer-pleasing properties such as soybean oil with fats as healthy as those in olive oil.
But the deal comes with restrictions that speak to the startling power of CRISPR, as well as widespread public anxiety about genetically modified crops: Monsanto cannot use it for gene drive, the controversial technique that can spread a trait through an entire population, with unknown consequences.
Since 2013 the Broad has issued more than a dozen licenses for commercial research using CRISPR-Cas9, including to Editas Medicine, GE Healthcare, and Evotec. This is the first for agricultural use. Genome-editing of crops offers the potential of increasing yields, reducing the use of chemical pesticides (a plant can be genetically modified to thwart insects), and making strains tolerant of the droughts that are becoming more frequent with global climate change.
But "just as in biomedicine, the use of genome editing... see more