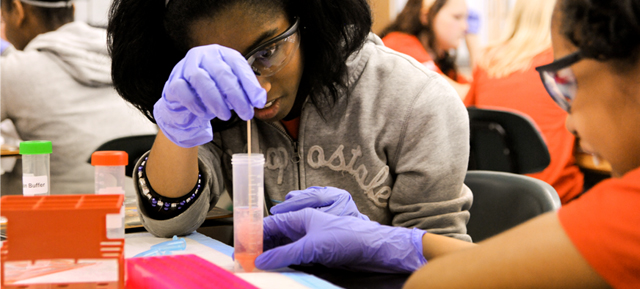 "What we've got here is some DNA, and this is a syringe," Josiah Zayner tells a room full of synthetic biologists and other researchers. He fills the needle and plunges it into his skin. "This will modify my muscle genes and give me bigger muscles."
Zayner, a biohacker–basically meaning he experiments with biology in a DIY lab rather than a traditional one–was giving a talk called "A Step-by-Step Guide to Genetically Modifying Yourself With CRISPR" at the SynBioBeta conference in San Francisco, where other presentations featured academics in suits and the young CEOs of typical biotech startups. Unlike the others, he started his workshop by handing out shots of scotch and a booklet explaining the basics of DIY genome engineering.
If you want to genetically modify yourself, it turns out, it's not necessarily complicated. As he offered samples in small baggies to the crowd, Zayner explained that it took him about five minutes to make the DNA that he brought to the presentation. The vial held Cas9, an enzyme that snips DNA at a particular location targeted by guide RNA,...