Marketing GM Babies in Turkish Cyprus?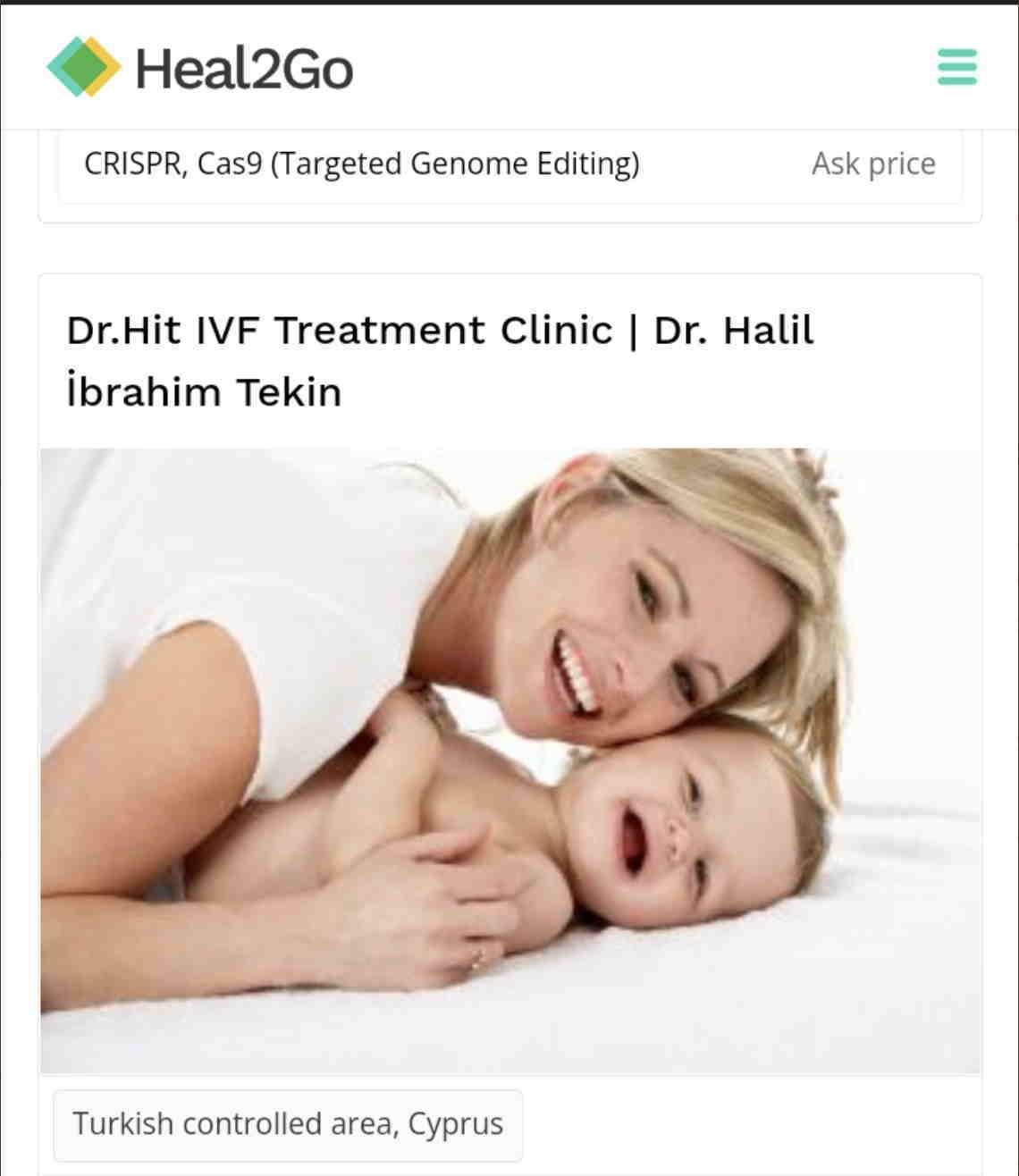 From a screenshot by Eben Kirksey, tweeted on January 5, 2022
He Jiankui, the Chinese researcher who genetically modified human embryos and supervised their use to establish pregnancies in two women, was widely condemned as a "rogue scientist." A major concern for years has been "rogue fertility clinics" that could offer to create genetically modified babies. Eben Kirksey may have found some. He tweeted on January 5:
A medical tourism company, http://heal2go.com, is offering "Genetically Modified Babies" at clinics in Turkey. Specifically they are offering #CRISPR Cas9 targeted genome editing. This apparently violates @WHO guidelines for human germline genome editing. Thread 1/7
Heal2Go describes itself as "an innovative medical travel platform" with a mission "to make medical traveling easier. … We're working on becoming the world's largest and most efficient curated marketplace for treatments abroad." Kirksey, author of The Mutant Project: Inside the Global Race to Genetically Modify Humans, searched the site and found that Heal2Go had connections to seven clinics that it listed as promoting IVF treatments with CRISPR, explicitly offering "Gene Editing (GMO Babies)" and "Designer Babies."
He took screenshots, which is just as well since within a few days all these references seem to have been expunged from the Heal2Go website. The screenshot that accompanies his first post actually features a clinic in the Turkish-controlled area of Cyprus; others are in Turkey itself. Kirksey notes that the claimed offerings may have just been "overzealous marketing," and a Turkish colleague reassures him that the clinics involved knew nothing about it. Medical Park Hospitals, a Turkish healthcare chain that is included in the screenshots, also reacted by saying that reproductive genetic modification is illegal in Turkey.
Any such "treatment" would certainly be contrary to the Council of Europe's Oviedo Convention, which in Article 13 bans "any modification in the genome of any descendants" and in Article 14 bans sex selection "except where serious hereditary sex-related disease is to be avoided." Turkey is a signatory, and so is Cyprus.
But there's a jurisdictional gray area here. Cyprus is divided and the government that is recognized by every nation except Turkey only controls about 59% of the island, while the soi-disant Turkish Republic of Northern Cyprus controls about 36%. (There is also a U.N. buffer zone.) And there is some suggestion that different rules may apply in Cyprus. For example, the clinic featured in Kirksey's first screenshot is, as noted above, in Turkish Cyprus and is run by Doctor Halil İbrahim Tekin (aka Dr. HIT). His website, as translated by Google, no longer includes the "CRISPR, Cas9 (Targeted Genome Editing)" that Kirksey noticed but does offer sex selection and includes this intriguing note:
There are pregnant women who go to Cyprus to benefit from this treatment, which is not possible in Turkey.
That's interesting. Apparently, Turkish Cyprus operates under different laws than Turkey itself, as well as being separate from what everyone else regards as Cyprus. So does the Oviedo Convention's prohibition of heritable genome editing apply to Northern Cyprus? Some lawyer somewhere might argue that it does not. That would make it an ideal home for a "rogue fertility clinic" to sell — or claim to sell — genetic alterations to embryos, and present the babies to the world as a fait accompli.
That is one real-world example of how the "rogue fertility clinic" scenario could play out. And another good reason that an enforceable global prohibition is urgently needed.