Dispatch from the Gene Editing Summit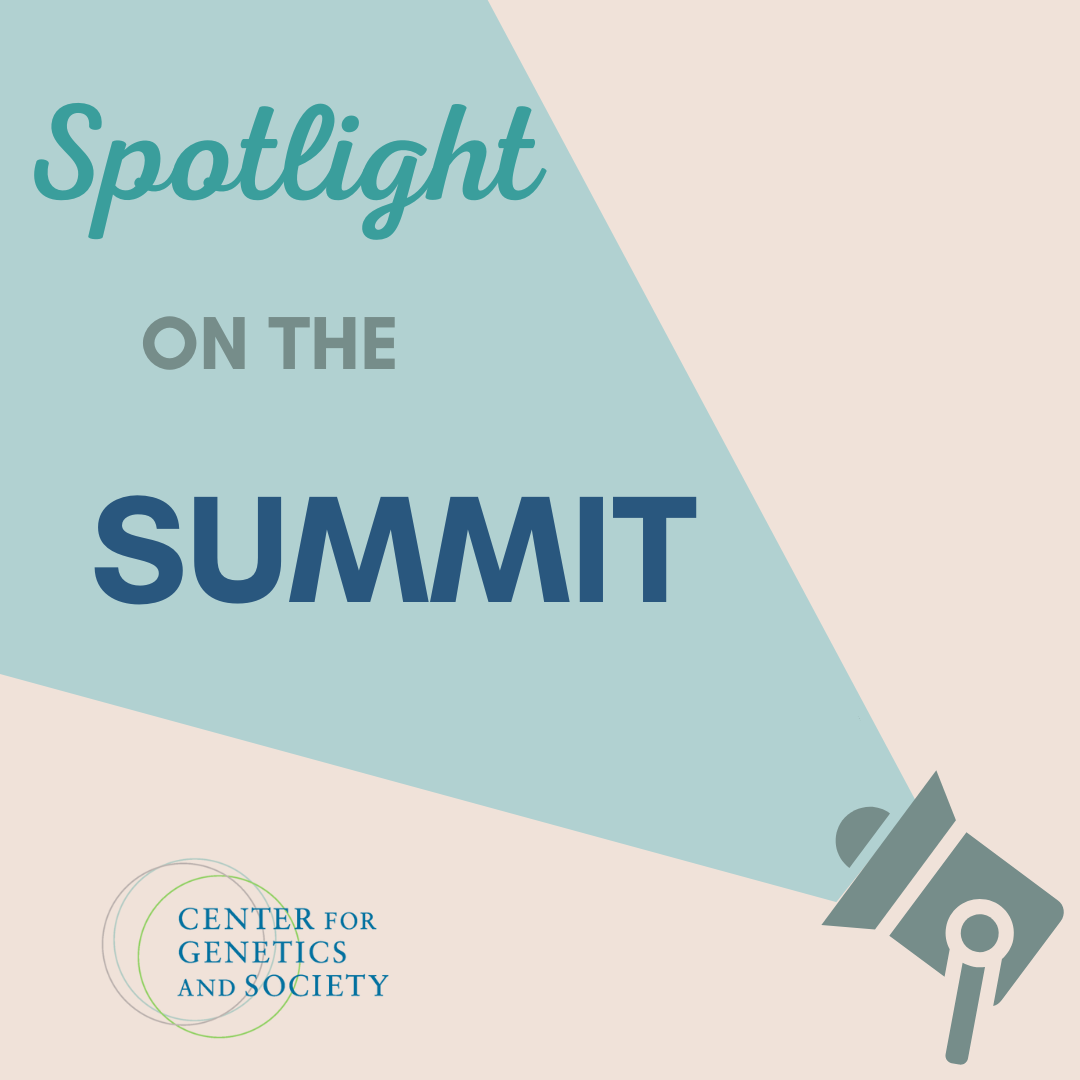 This week in London, some 400 people from around the world – including scientists, bioethicists, patients, journalists, civil society groups, and the interested public – gathered for the Third International Summit on Human Genome Editing to discuss the current and future capabilities and challenges for the technology. Many others viewed the proceedings online.
Toward the end of the three-day event, the Summit organizing committee's concluding statement appeared in each participant's inbox. Committee chair Robin Lovell-Badge read it aloud. On reproductive use of gene editing, the concluding statement said:
Heritable human genome editing remains unacceptable at this time. Public discussions and policy debates continue and are important for resolving whether this technology should be used. Governance frameworks and ethical principles for the responsible use of heritable human genome editing are not in place. Necessary safety and efficacy standards have not been met. [italics added]
The key words here are "remains unacceptable" and "whether." Given that the 2018 Summit's statement (drafted by many of the same organizers) declared that "it is time to define a rigorous, responsible translational pathway toward [clinical] trials" of heritable genome editing, this is a significant and welcome adjustment. The new statement acknowledges that the question of whether heritable genome editing should be used is unsettled, and that for now the technology must remain off limits.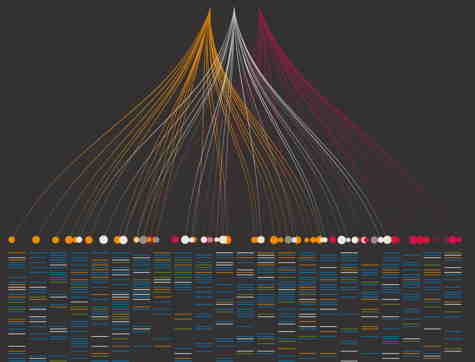 A closer look at the statement reveals some caveats and contradictions. It reiterates familiar criteria that must be met before pursuing heritable uses, including safety, efficacy, "responsible governance," and "societal discussion and policy debate." Notably missing is "broad societal consensus," which featured in the concluding statement of the first Summit in 2015, but which has had organizers furiously backpedaling ever since. Further, the stipulation that heritable genome editing research must be "legally sanctioned" looks fragile, considering efforts in the UK (spearheaded by organizing committee chair Robin Lovell-Badge) to change legislation in order to remove the existing prohibition.
In the Shadow of CRISPR Babies 
The third Summit featured an expanded focus on somatic genome editing that celebrated significant progress toward gene therapies for sickle cell disease, highlighted areas of continued technical challenges, and emphasized the importance of equity in light of the outrageously high, multimillion-dollar prices of existing gene therapies. 
The strong focus on somatic genome editing, while important for reviving discussion of glaring social and ethical issues that have gone ignored, also seemed to serve another purpose. Organizers were determined that the third Summit would be significantly different from the second, which had been effectively hijacked by He Jiankui and the CRISPR babies he had helped to create. 
The concerted effort (openly noted by the committee chair) to de-emphasize discussion of germline gene editing surfaced in the structure of the agenda, which held focused discussion of heritable genome editing to the summit's last day. Throughout the event, a number of the speakers and most of the organizing committee members who moderated panels seemed reluctant to talk about issues related to heritable genome editing. Participants repeatedly tried to raise the subject, but questions submitted electronically were regularly overlooked and those asked at the mic were often deflected.
Conspicuous Silences
This Summit did feature a broader range of speakers and panels than previous ones, including panels on public engagement and research agenda-setting that referenced civil society. Although panels like these were brief, and seemed squeezed in at the beginning and end of each day, they did provide opportunities for raising key critical points and pushing for inclusion of a broader range of social justice issues, as Sarojini Nadimpally, Sheila Jasanoff, Maria de Jesús Medina Arellano, and Kaushik Sunder Rajan, among others, did.
Outrageously, the program included no voices representing disability rights or communities. While individual patients and patient advocacy groups were featured in several panels emphasizing the need for increased funding, research, and access to treatments, perspectives from people with disabilities holding a range of attitudes made up just one slide in one talk. Access to healthcare and treatments is an important element of equity, but social justice cannot be flattened to just an issue of economics. 
In the end, discussion of the issue of whether to pursue heritable genome editing, and why or why not, was confined to a single panel on the final day exploring whether there are "compelling reasons" to do so. In the meantime, arguments for considering heritable genome editing to be medical or therapeutic were made from the floor and in the introductory slides of several scientific presentations. Moreover, a mention of the 70 countries that prohibit heritable genome editing provoked another panelist to interject that even more have not – a misleading observation given the geographic concentration of scientific work in the field.
Important Voices Outside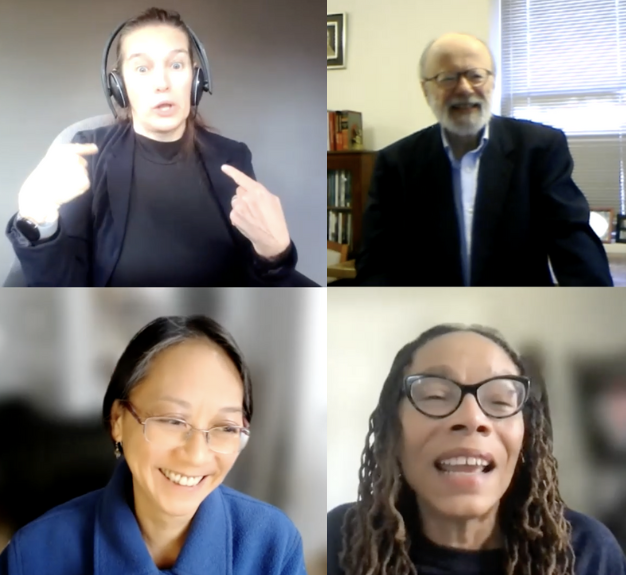 An encouraging difference from previous Summits was the unprecedented level of civil society organizing and engagement surrounding it, including several independent events and initiatives. Some took place ahead of the summit, including a two-part symposium organized by CGS, Genetic Justice from Start to Summit: Centering social justice in debates on heritable genome editing, which drew hundreds of registrants from 25 different countries.
Also during the days before the Summit began, a coalition of public interest groups (including CGS) opened an International Declaration Against Legalisation of Human Genetic Modification, which currently has been signed by more than 40 organizations and more than 450 individuals.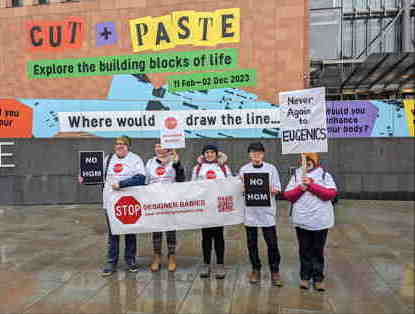 As the Summit's participants arrived on the first day, a small but very noticeable demonstration was held just outside the doors, organized by Stop Designer Babies, brandishing a banner and a sign proclaiming "Never Again to Eugenics." The protesters garnered mentions in news stories, on social media, and from the Summit chair in his opening remarks.
After the second day, the Global Observatory for Genome Editing arranged an event just up the road from the summit, "Toward Inclusion: Genome Editing and Social Justice," in person and online, which featured several of the Summit's speakers and organizing committee members. The first panel included three officials from UNESCO, the Council of Europe, and WHO; the second, four distinguished academics. The room was clearly full, the event ran long, and counted as another success.
These events and initiatives demonstrate the growing awareness and sense of urgency among civil society advocates and scholars committed to social justice and human rights about the implications of heritable genome editing. Their voices and perspectives are essential to a meaningful debate about this high-stakes technology and whether it has any place in the future we aspire to build.