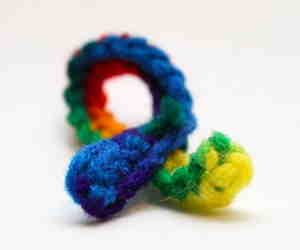 "48:365 World Autism Awareness Day" 
by mattbeckwith is licensed
under CC BY-NC-SA 2.0
As many people in the autistic community have by now heard, Professor Simon Baron-Cohen, who has spent the past few years rebranding himself as a neurodiversity proponent, has announced a new research programme called Spectrum 10K. This collaboration, between the University of Cambridge and the University of Los Angeles, will, among other things, examine the DNA of a hoped-for 10,000 autistic participants, with the expressed aim of increasing autistic well-being.
While the aim of improving well-being is a welcome one, the focus on autistic DNA has worried many autistic people. After all, autistic people have long been subject to eugenicist attempts to eliminate us, despite most of us wanting to be accepted.
In their efforts to reassure the autistic community that they are not a eugenics programme, Spectrum 10K states on its website that "The Spectrum 10K team views autism as an example of neurodiversity and is opposed to eugenics or looking for a cure for preventing or eradicating autism itself." However, the researchers still... see more