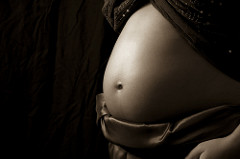 Malis* sits under her home in a remote village with her legs folded under her swelling belly. She's six months pregnant, expecting a baby girl, and knows nothing about the child's parents except that they are Chinese.
She also is unaware that, as of yesterday, she could find herself facing serious jail time for her role in an illegal surrogacy operation.
Though the "rent-a-womb" practice was outlawed in a snap edict in October 2016, the Interior Ministry named January 8 the deadline for a "surrogacy amnesty".
Surrogate mothers who gave birth before that day and handed the baby over to its intended parents would avoid prosecution. Intended parents, meanwhile, were encouraged to notify the Cambodian courts to gain custody of their child and be granted an exit visa through proper channels.
Parents, brokers and surrogate mothers connected to babies born after that date, however, would face legal action, the ministry warned, in guidelines officially disseminated to embassies in July last year.
Yet the banned practice is still continuing, and Malis, 35, is proof.
She already has two children of...