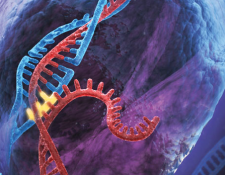 Currently, there are no gene editing–based treatments on the market, but the technology continues its march toward potential FDA approval, with several products in mid- and late-stage trials. As these programs mature, 2023 could be a pivotal year for companies in the space. Here are some highlights to look forward to as the year progresses.
CRISPR Therapeutics/Vertex Pharmaceuticals
Just this month, collaborators CRISPR Therapeutics and Vertex Pharmaceuticals completed the submission of a rolling Biologics License Application (BLA) to the FDA for their product, exa-cel, as a potential treatment for sickle cell disease (SCD) and transfusion-dependent beta thalassemia (TDT).
Exa-cel is a CRISPR/Cas9 ex vivo treatment designed to increase levels of fetal hemoglobin in red blood cells. Fetal hemoglobin carries oxygen more efficiently than adult hemoglobin, which is defective in SCD and TDT. Exa-cel is currently undergoing two Phase III trials, CLIMB-111 and CLIMB-121, as well as an ongoing long-term follow-up study, CLIMB-131.
As such, exa-cel will be perceived as a viable alternative to existing treatments, which do not address the direct cause of the disease. For SCD, current treatments... see more