Who Knew Synthetic Biology Was So Hard?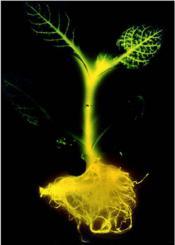 The prospect of plants that glow in the night gleamed brightly four years ago. And shuffled back into the darkness this month.
In April 2013, Antony Evans and colleagues launched a KickStarter campaign for "Glowing Plants: Natural Lighting with no Electricity." The page is still up, with the delivery date for "an actual glowing arabidopsis plant" listed as June 2014. On April 18, 2017 Evans threw in the towel. The company has stopped work on the plant and is now working on a patchouli-scented moss.
For more on this "significant transition point," see the long article in BackChannel by Signe Brewster, or a shorter but equally perceptive piece by Sarah Zhang in The Atlantic. Both touch on the symbolic status of Glowing Plants, which was always there by design. From the original Kickstarter page:
 Use it as a nightlight or show your friends how cool synthetic biology is.
It was clear four years ago that this was part of a conscious move to create a new industry, a consumerization of synthetic biology. As I wrote in GeneWatch at the time:
This is not 1970 - these guys are not barefoot hippies, and they are certainly not selling a VW bus or H-P calculator to buy circuit boards. They do, however, have something in common with the pioneers of personal computing: They don't know what will come of their technology, but they think it will be wonderful.
Glowing Plants also tested the limits of current regulations. Trivially, Kickstarter soon changed its guidelines to prevent the offering of genetically modified organisms as rewards. More important, however, was the suggestion that this plant, for technical reasons, was not covered by any federal agency. This may have been true, in that it fell in the cracks, but seemed absurd. From the same GeneWatch article:
To be clear, they are proposing to release somewhere between 5,000 and half a million experimentally modified plants to anyone with $40 who asks for them, at completely unknown sites, with absolutely no oversight or reporting requirement. Would any responsible lab really do this? Really?
Such questions never really got answered. But then, the technological issue they thought was so trivial defeated them. Evans told me last November that they originally thought that $100,000 would give them enough resources, but by then they had spent a million and still one of the six genes they were trying to insert into the mustard plant kept failing and seemed to be pathogenic.
Meanwhile, talk about making "mammophants" or remaking humans for space flight still regularly bubbles up into headlines. Essentially, these proposals all depend on the same kind of genomic technology as the glowing plant, only they are several orders of magnitude more complicated. Why do people keep falling for these fantasies?
Who knew that synthetic biology, like healthcare reform, was so hard?
Previously in Biopolitical Times:
Image via Kickstarter