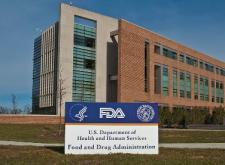 The FDA's Peter Marks, M.D., Ph.D., thinks gene editing—specifically base editing—could be a "game changer," but progress has been slow, likely due to discouragement with the regulatory process. 
Marks, head of the FDA's Center for Biologics Evaluation and Research, acknowledged that there's been a "backslide" in new gene therapy advancements as academic founders realized that their breakthrough lab findings had to fit into the larger pharma machine. 
"People kind of woke up and realized, 'Oh, this is pharmaceutical development. There's a slog through here,'" Marks said in an interview with Fierce Biotech.
Things started out strong, giving these scientific founders hope that "they were gonna get over the finish line quickly," Marks said. "And for various reasons, they didn't make it there." 
This reality check fits within Marks larger concerns that the agency is simply not approving enough gene therapies, saying earlier this year that it would be a failure if the FDA only approved two to three a year moving forward. To try to ease the backlog, the FDA has so far revamped the Office of Therapeutic Products with more specialized offices and hired more... see more