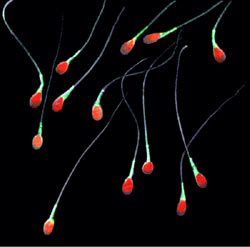 Genes from the virus that causes COVID-19 have been found in the semen of men who had the disease, according to a paper published last week in the journal JAMA Network Open. A previous study and a case report had found no evidence of the virus in semen. 
The new study, by Shixi Zhang at the Shangqiu Municipal Hospital in Shangqiu City, China, and colleagues, examined the semen of 38 patients — 23 who had recently recovered and 15 who were acutely ill. Six had results that were positive for the virus. Two of those cases were from among the recovered, and four were from men still ill.
SARS-CoV-2, the virus that causes COVID-19, had previously been detected in stool, urine and saliva, but never before in semen.
The study was small, and did not investigate how long after recovery the virus might remain or if it could be transmitted. But the findings raise interesting questions.
The researchers say that the presence of viruses in semen may be more common than currently appreciated. They point out that 27 viruses... see more