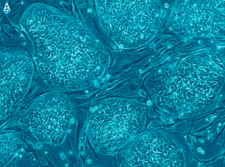 Editor's note: The article below first appeared today on Capitol Weekly, the respected online California news and information service. The article has been slightly altered from the initial version. 
A crack opened last week for the first time in 17 years in the firewall between state politicians and the $12 billion California stem cell agency. 
It involves only $600,000 -- at least for now -- and is buried deep in the 1,069-page state budget bill that was introduced on June 8. But its implications are far-reaching. They range from opening the agency to major changes -- wanted and unwanted -- to creating a basis for the agency's currently dubious, long-term financial sustainability.
The crack is the product of Proposition 14 of 2020, the $5.5 billion ballot initiative that saved the agency from financial extinction. The measure also added 7,000 words to the already 10,000-word law that created and regulates the Calfornia Institute for Regenerative Medicine (CIRM), as the agency is legally known.
Tucked away in those new provisions are 80, virtually unnoticed words that have altered the... see more