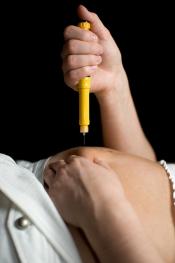 Stronger fertility drugs could be linked to last year's increase in cases of potentially life-threatening ovarian hyperstimulation syndrome, warn doctors
Increased numbers of women suffered from a serious complication of IVF last year, according to official figures that raise concerns about the use of powerful fertility drugs.
In 2015, 60 women were admitted to hospital with severe ovarian hyperstimulation syndrome (OHSS), a 40% increase on the previous year. The condition, which is triggered when the ovaries swell up and leak fluid, is potentially life-threatening. Symptoms include abdominal swelling and pain, nausea, dehydration and blood clots in the legs.
Leading fertility doctors warned that the trend could be driven by doctors giving women stronger drugs to harvest more of their eggs, with a view to boosting the chances of a successful pregnancy.
Professor Geeta Nargund, a senior consultant at St George's Hospital in London and medical director of Create Fertility, said: "OHSS is a preventable condition. The number should never go up, it should always go down in modern fertility practice."
In the past decade the numbers of OHSS cases have...