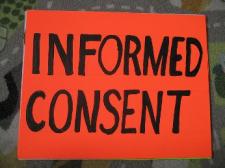 Maggie Eastman considers it the worst decision she ever made.
In 2003, beset by $30,000 in tuition debt and imbued with a burst of altruism, Eastman, a college senior, decided to donate her eggs to help an infertile couple have a baby. Over the next decade she donated nine more times, earning a total of about $20,000 — money that helped Eastman and her then-husband buy a house.
"When I think back, I think, 'God, how stupid was I?' " said Eastman, now 34, who works as a 911 operator near Seattle. She made her final donation in 2013, months before she was diagnosed with Stage 4 metastatic breast cancer — a rarity in someone so young who has no family history of the disease.
Eastman said that when she asked her oncologist whether her cancer might be related to her egg donation, which involves the use of hormones to rev up egg production, he replied that he didn't know, adding, "Well, there are risks."
Although Eastman believes that being an egg donor was the cause of her estrogen-fueled...