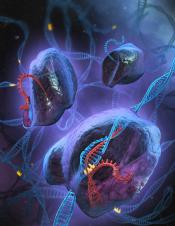 The last thing a lot of people want to do these days is get on a plane. But even a pandemic would not stop Victoria Gray. She jumped at the chance to head to the airport this summer.
"It was one of those things I was waiting to get a chance to do," says Gray.

She had never flown before because she was born with sickle cell disease. She feared the altitude change might trigger one of the worst complications of the devastating genetic disease — a sudden attack of excruciating pain.
But Gray is the first person in the United States to be successfully treated for a genetic disorder with the help of CRISPR, a revolutionary gene-editing technique that makes it much easier to make very precise changes in DNA.
About a year after getting the treatment, it was working so well that Gray felt comfortable flying for the first time. She went to Washington, D.C., to visit her husband, who has been away for months on deployment with the National Guard.
"It was exciting. I... see more