CGS Urges UK Government Not to Break International Consensus Against Inheritable Genetic Modification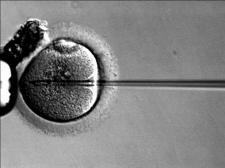 The UK's top medical officer announced today that the country may move toward permitting "mitochondrial replacement" techniques. If eventually allowed, this would be the first time any jurisdiction in the world has authorized intentional genetic modification of children and their descendants.

"Crossing this long-observed ethical line could have serious implications for all of humanity," said Marcy Darnovsky, PHD, executive director of the Center for Genetics and Society. "The push in the UK to do so is particularly disturbing when the safety of mitochondrial replacement is very much in doubt, when its usefulness is dubious, and when the claim of public support is highly misleading at best."

Although mitochondrial replacement would alter only traits affected by DNA outside the nucleus, it could open the door to further inheritable genetic alterations, with potentially dire societal consequences. Inheritable genetic modification is expressly prohibited in every country that has considered the issue – including the UK – and by the Council of Europe's Convention on Biomedicine and Human Rights.

The Center for Genetics and Society calls for a domestic and international moratorium on approval of any procedures involving inheritable human genetic modification, and for comprehensive public education and engagement concerning their full implications.

Safety concerns. "Researchers in the UK and in the US have been far too quick to claim that these biologically radical manipulations are safe enough for human experimentation," Darnovsky said. "In fact they acknowledge, in what amounts to the fine print, that children born as a result of these procedures – and subsequent generations – could be affected by developmental abnormalities."

The researchers at Newcastle University who have been working on mitochondrial replacement were required by the UK's Human Fertilisation and Embryology Authority (HFEA) to submit safety updates on the efficacy of their technique in primates. They never did this. Testing in the United States has shown the Newcastle technique to be unsuccessful in macaques. Instead of accepting that this could mean the method is not advisable for use in humans, the HFEA changed its course and is no longer requiring testing in a non-human primate model prior to human clinical trials.

Public opposition. "The HFEA's claim of broad public support for mitochondrial replacement is belied by its own report," said Darnovsky, "and concerns about it have been repeatedly misrepresented."

More than 1800 people responded to the agency's questionnaire, the only portion of its public consultation that was open to everyone, and the element that in past public consultations was seen as the most significant. A clear majority of these respondents opposed the introduction of either variation of mitochondrial replacement being considered. The HFEA and UK Government have attempted to minimize this opposition, and have repeatedly mischaracterized opposition as being based in religious objections to research that involves destruction of human embryos.

"Letters of opposition to this extreme technique have poured in from pro-choice and secular bioethicists, scientists, and public interest advocates around the world," said Darnovsky.

Dubious utility. The UK Department of Health's recommendation that mitochondrial replacement be allowed claimed that it could "save around 10 lives each year." In fact it would do nothing to help people living with mitochondrial disease. Its proposed use targets the very small number of women with a rare kind of mitochondrial disease who wish to have unaffected children who are genetically related to them. According to a prominent scientist who chaired the HFEA group overseeing its public consultation, about 10-20 women a year in the UK would be candidates for considering it.

"We sympathize with the desires of these women," said Darnovsky, "but we note that much safer alternatives for having children are available to them, including using third-party eggs, pre-implantation genetic diagnosis, or adoption."

# # #

For comprehensive information on mitochondrial replacement, see our resource page.

The Center for Genetics and Society is a non-profit public affairs and policy advocacy organization working to encourage responsible uses and effective societal governance of human genetic and reproductive biotechnologies.
 
---
Contact:
Marcy Darnovsky
510-625-0819, ext 305
mdarnovsky[AT]geneticsandsociety[DOT]org
---