CGS urges caution in response to genetically modified primates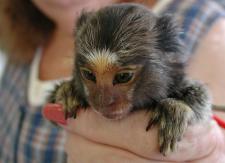 Center for Genetics and Society calls for scientists, policymakers to reject human inheritable genetic modification
The Center for Genetics and Society today said that the creation of a transgenic marmoset underlines the need for scientists and policy makers to reject human inheritable genetic modification.

"The development of techniques to modify the genes of primates across generations raises the issue of human inheritable genetic modification," said Marcy Darnovsky, the Center's associate executive director. "Responsibly conducted animal research holds potential to reduce suffering, but there is no justification for human inheritable genetic modification."

Today, a team at Japan's Central Institute for Experimental Animals detailed in Nature the genetic modification of marmosets, which the scientists believe will produce useful animal models for human diseases.

"Responsible scientists should pledge to refrain from proposing or conducting experiments with human inheritable genetic modification," added Center policy analyst Jesse Reynolds. "Furthermore, the United States should join the emerging international consensus and prohibit such activities."

Forty-four countries already prohibit human inheritable genetic modification. Of the 30 industrialized countries in the Organization for Economic Co-operation and Development, 26 have such laws. The Untied States has no national policy.

"A Nature editorial accompanying the paper called for dialogue on human inheritable genetic modification," Darnovsky continued. "Polls have already shown that a majority of Americans disapprove of this work, and action by Congress is overdue."

The Center is a non-profit public affairs and policy advocacy organization working to encourage responsible uses and effective societal governance of human genetic and reproductive biotechnologies. The Center operates BioPolicyWiki, a wiki-style compendium of country-level policies and binding international agreements governing reproductive and genetic technologies and practices.
 
---
Contact:
Marcy Darnovsky
510-625-0819 x305
510-913-7714
mdarnovsky[AT]geneticsandsociety[DOT]org
---