Talking Biopolitics: Conversations with Cutting-Edge Thinkers
Talking Biopolitics is the Center for Genetics and Society's series of live web-based conversations with cutting-edge thinkers about the social meaning of human biotechnologies. We ask questions - and take yours - about how we can put our vision of a new biopolitics on the public radar.

Complete versions of Talking Biopolitics webcasts are available here: 2017, 2016, 2015, 2014, 2013, 2012, and 2011.
Talking Biopolitics 2018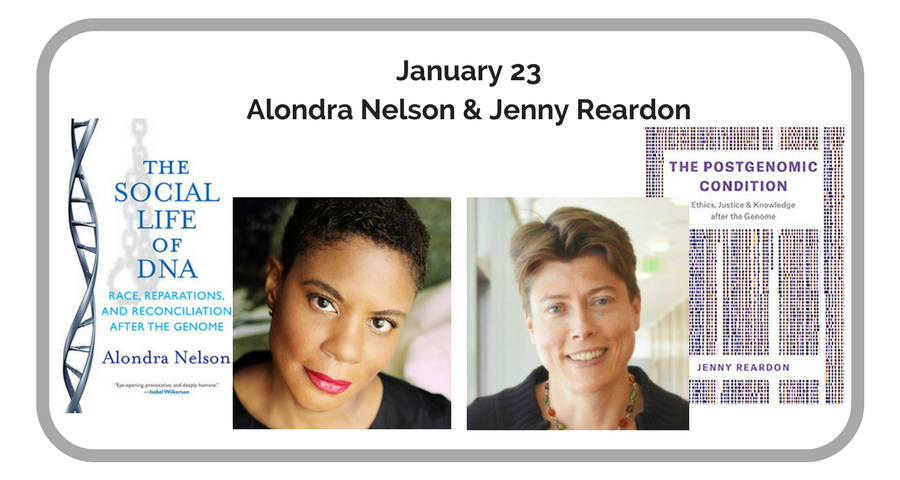 ---
Alondra Nelson is professor of sociology and gender studies at Columbia University, where she has served as the inaugural Dean of Social Science and Director of the Institute for Research on Women, Gender, and Sexuality. more .
Talking Biopolitics 2017
---

Shobita Parthasarathy, Associate Professor of Public Policy and Women's Studies at the University of Michigan, spoke with Tania Simoncelli, Director of Policy for Science at the Chan Zuckerberg Initiative, about Shobita's new book, Patent Politics: Life Forms, Markets, and the Public Interest in the United States and Europe. more .

---

Ben Hurlbut, Professor of Life Sciences at Arizona State University, will speak with Patricia Williams, James L. Dohr Professor of Law at Columbia Law School, about his new book, Experiments in Democracy: Human Embryo Research and the Politics of Bioethics. more.

 
---

Renee Tajima-Peña and Virginia Espino, director and producer of the documentary No Más Bebés, talk about their film, their research and California's history of sterilization with Alexandra Stern. more .

---

Paul Knoepfler, stem cell researcher, blogger, and author of the just-released GMO Sapiens: The Life-Changing Science of Designer Babies, will talk about the book and the issues it raises with Nathaniel Comfort, Professor in the Department of the History of Medicine at John Hopkins School of Medicine. more.

 
---

In this live online conversation, Osagie Obasogie interviewed Aaron Panfosky about his new book, Misbehaving Science: Controversy and the Development of Behavior Genetics.... more

---

This discussion featured Nathaniel Comfort and Alexandra Minna Stern talking about the history and future of human genetics and eugenics. ... more

 
---

George discussed with Emily his new book  The Shape of the Eye: A Memoir , and his thoughts on the disability rights implications of new prenatal gene tests... more.

---

Miriam discussed her experience and unblinking account of the emotional anguish, health complications, ethical quandaries and financial costs of her own fertility journey. She also delivers vital insights into the consequences of our failure to adequately understand and regulate the business of assisted reproduction ... more.

 
---

Harriet discussed with Lisa her experiences writing and talking about the increasingly powerful "medical-industrial complex," the erosion of informed consent in biomedical research, and the ways that commercial dynamics have aggravated issues of distributive and social justice... more.

 

---

Dorothy Roberts , noted professor of law at Northwestern University,  discusses her recently published book Fatal Invention: How Science, Politics, and Big Business Re-create Race in the Twenty-first Century. Dorothy is interviewed by UC Berkeley associate professor of bioethics David Winickoff ... more.

 

---

Bill McKibben talks about why he wrote Enough: Staying Human in an Engineered Age (2003), how it was received, and what this experience might tell us about communicating and organizing in support of practices and policies addressing human biotechnology, both domestically and internationally..... more

 
---

This webinar analyzes current developments in the field of synthetic biology. Jaydee Hanson discusses the types of research actually being conducted under the wide umbrella of "synthetic biology," Eric Hoffman focuses on their social and health implications, and Tina Stevens talks about the need for grassroots action to confront their risks... more .

---

Susan Fogel discusses the current scientific, marketing and political developments related to assisted reproductive technologies, with particular focuses on practices and policies that raise questions, concerns, or possibilities from a reproductive justice perspective...more