Will California Expand the Market for Women's Eggs?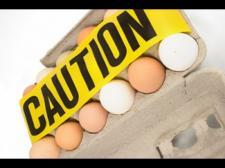 Currently, California – like many countries – allows women who provide eggs for research to be reimbursed for travel, lost wages, child care, and other expenses connected to the egg retrieval process, but not to be paid beyond that.

A bill sponsored by the American Society for Reproductive Medicine, the fertility industry organization, would overturn that policy, and allow researchers to pay thousands of dollars beyond reimbursement for women's eggs.

Despite opposition from women's health and public interest organizations, including the Center for Genetics and Society, AB 2531 sailed through the state's Assembly Health Committee on April 5 with a 17-0 vote. It now goes to the Assembly floor, and after than to the state Senate.

What's wrong with expanding the market for women's eggs? After all, women are allowed to sell their eggs for other people's fertility treatments. Here are key reasons it's important to hold the line:
The health risks of egg harvesting are significant, but they're woefully under-studied. A well-known and fairly common short-term problem is ovarian hyper-stimulation syndrome (OHSS), but no one is sure how many women get the serious – sometimes life-threatening – version of it. Data on long-term outcomes, including follow-up studies on reports of cancers and infertility in egg providers, are notoriously inadequate.
It is impossible for women to give truly informed consent if adequate health and safety information can't be provided.
Offering large sums of money encourages women in need to gamble with their health. It's what bioethicists call "undue inducement."
Women who provide eggs are not research subjects, despite the inaccuracy in AB 2531. In clinical studies, researchers follow the health outcomes of participants. In egg retrieval procedures, researchers are interested in acquiring eggs for raw material for their studies, not in effects on women who provide them.
AB 2531 would overturn an existing California law, authored in 2006 by then-state Senator Deborah Ortiz, a well-known champion of women's health and medical research. It would also conflict with guidelines from the National Academy of Sciences, and with the rules of the California stem cell agency. All these policies state that women who undergo egg retrieval for research can be compensated for their expenses, but not paid beyond that.

This isn't the first time the fertility industry has sponsored legislation to expand the market for eggs. An almost identical bill was vetoed by Governor Brown in 2013. His veto message said in part,
"Not everything in life is for sale, nor should it be....The long-term risks are not adequately known. Putting thousands of dollars on the table only compounds the problem."
Letters of opposition to AB 2531 were sent by these organizations and individuals:
Previously on Biopolitical Times: