Hotline for Eugenics Victims
Posted by Pete Shanks December 10, 2008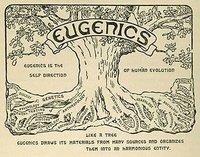 North Carolina has set up a toll-free number (800-662-7030) for survivors of the state's eugenic program, which ran from 1929 to 1974. More than 7,600 people were sterilized under the law, which was finally repealed in 2003. Presumably most of them are no longer alive, but state legislators are trying to decide how to compensate the surviving victims.
Kudos are due once again to the Winston-Salem Journal, for its prize-winning 2002 series "Against Their Will," which played a pivotal role in bringing this history to modern attention, and for continuing to follow the story.
Over the last several years, there have also been apologies from Virginia, Indiana (on the occasion of the 100th anniversary of the first state sterilization law), Oregon, California and South Carolina. (A resolution was introduced in Georgia, but it seems to have stalled.) There have also been conferences in Sacramento and Indianapolis, focusing on their respective local histories, and in Washington, D.C., looking to avoid a eugenic future.
These efforts are important, even if to date North Carolina is the only jurisdiction to offer anything more than words of regret. Shouldn't other states follow their lead? Is it time for national consideration of the issue? There are regular reports of people proposing to revive eugenic sterilization. And technically, the Supreme Court ruling in Buck v. Bell, which confirmed the legality of state sterilization, still stands. (Skinner v. Oklahoma raised questions about the use of sterilization as punishment but did not overturn the Buck decision.) Should we find a way of over-riding it?
Previously on Biopolitical Times: