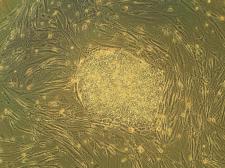 Seventeen California scientists won a total of $26 million this week to devise ways to overcome knowledge gaps and bottlenecks that are slowing the development of revolutionary stem cell and gene therapies.
The California Institute for Regenerative Medicine (CIRM), which is known as the state stem cell agency, on Tuesday awarded the three-year grants, which ranged as high as $1.6 million. Fifteen of the winners came from University of California campuses.
CIRM singled out one grant for particular attention — a $1.4 million project by Gay Crooks of UCLA. She and her team are trying to "develop new gene editing methods for producing universal, off-the-shelf, therapeutic T-cells from induced pluripotent stem cells (iPSC) that can be applied to a range of diseases," CIRM said in a news release.
"T-cells are a type of white blood cell that protects the body from infection and may help fight cancer," CIRM said.
If Crooks is successful, her research would "dramatically expand the reach of this promising therapy," according to the agency. The research could be used for other CAR... see more