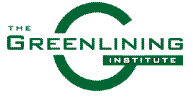 Toward Fair Cures: Integrating the Benefits of Diversity in the California Stem Cell Research Act was a first-of-its-kind conference on minority health disparities and stem cell research. The Greenlining Institute, a multi-ethnic public policy, research and advocacy group, hosted the October 14 event in order to facilitate a dialogue on how all Californians, particularly the state's diverse "minority majority" communities, can share in any benefits of the state's $3 billion stem cell research program.
CGS staff members Sujatha Jesudason and Patricia Berne were among an impressive roster of speakers from community groups, academia, and the sciences. The three panels addressed topics, including institutional barriers to diversity, affordability of any treatments developed by the stem cell program, community reinvestment, safeguarding women in stem cell research, and the politics of disability.
The agency at the center of much of the attention—the California Institute for Regenerative Medicine—was represented by Scientific Review Officer Gil Sambrano and a recorded video message from CIRM President Zach Hall.
The conference was co-sponsored by the UC Berkeley's Science, Technology and Society Center and the Children's...