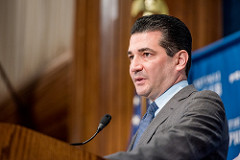 Are fat stem cells a drug? Today the FDA definitively indicated "yes" without leaving much of any room for exceptions on this question.
This morning the FDA made a major announcement on stem cell policy regarding its current thinking on oversight of regenerative medicine and issued four guidances, including two each in final and in draft form. There will be a 90-day comment period for the latter. Are today's developments a good thing overall? I'd say "yes", although there are still some ambiguities and a more accurate answer might be "Yes, but it's complicated."
Overall, the FDA's goal is to establish a clear and "modern" framework, as they put it, for oversight of the regenerative medicine arena including related to the 21st Century Cures Act provisions. In this post I'm mainly going to focus on the two finalized guidances and then the two draft guidances will be covered in more depth in a later post. FDA Commissioner Dr. Scott Gottlieb also issued a statement today again highlighting the importance of differentiating between good citizens in this arena and as he...