Staff can be contacted via email, using the first letter of the first name and the full last name, at geneticsandsociety.org. Thus, John Doe would be jdoe[AT]geneticsandsociety[DOT]org.
Click on the name of each program staff member to see their talks, articles, news and blog posts.


Marcy Darnovsky, PhD, Executive Director, speaks and writes widely on the politics of human biotechnology, focusing on their social justice and public interest implications. Her articles have appeared in The New York Times, Nature, The Guardian, Los Angeles Times, Wall Street Journal, Harvard Law and Policy Review, Democracy, Contraception, New Scientist, RH Reality Check and many others. She has appeared on dozens of television, radio, and online news shows and has been interviewed and cited in hundreds of news and magazine articles. She has worked as an organizer and advocate in a range of environmental and progressive political movements, and taught courses at Sonoma State University and at California State University East Bay. Her Ph.D. is from the History of Consciousness program at the University of California, Santa Cruz.

Charles Garzón, MA, Director of Finance and Administration, has many years of experience working with public policy and advocacy organizations. Most recent, he has been associated with a progressive policy think-tank and legal defense fund located in New York City. He holds a Bachelor's in Politics and Sociology as well as a Master's degree in Political Science with emphasis in international relations.
Victoria Massie, Communications Coordinator, is a writer and anthropologist. She is currently a PhD Candidate in Sociocultural Anthropology with a designated emphasis in Science and Technology Studies at UC Berkeley, where her work on how genetic ancestry is mobilized in Cameroon to reconnect and reconcile the history of slavery has garnered fellowships from the National Science Foundation and the UC Center for New Racial Studies, and lifetime membership from the West African Research Association. As a journalist, her writing on race at the intersections of technology, pop culture, and politics has been featured at The Intercept, Vox, Complex, and GeneWatch Magazine. More about Victoria Massie here.

Leah Lowthorp, PhD, Program Manager & Mellon/ACLS Public Fellow, joins CGS from an appointment in the Folklore and Mythology program at Harvard University. As a folklorist and anthropologist, Leah's work has spanned the impact of global cultural policy on artist communities in South Asia, community advocacy and the arts, and critique of South Asian population genetics research. She has taught on the intersections of the arts and social justice, gender, nationalism, intellectual property, and globalization at Harvard and the University of Pennsylvania. Leah's interests include the cultural underpinnings of biopolitical processes, the social justice implications of human reproductive and genetic technologies, and the ways in which biopolitical narratives are circulated both online and face-to-face. Leah received a BA with high honors in Anthropology and English from UC Berkeley; an MA in International Studies from the Institut Européen des Hautes Etudes Internationales as a Rotary Ambassadorial Scholar to France; and her PhD in Folklore and Anthropology from the University of Pennsylvania.
Kayla Tolentino, Staff Associate, graduated summa cum laude from San Francisco State University in May 2016. She majored in Community-Based Health Education and minored in both Political Science and Women's Health. She was accepted into the Congressional Internship Program as a Panetta Institute Scholar, and worked in the Washington DC office of Congressman Tony Cárdenas. Over the course of her studies, she developed a passionate interest in critically thinking about the ways that cultural practices, public policy, and social movements impact the human experience.

Interns
Jonathan Chernoguz, is currently an undergraduate at UC Berkeley majoring in political economy and minoring in public policy. Since his sophomore year, he has been working for CGS posting recent news, contributing blog posts to the Biopolitical Times, and compiling student resource pages. He has been interested in the history of eugenics since learning about the movement in high school and has worked to incorporate a lesson on the history of eugenics in California, with specific attention to coercive sterilization, into the state's high school curriculum.
Osagie K. Obasogie, JD, PhD, is Senior Fellow at the Center for Genetics and Society. He is Professor of Law at the University of California, Hastings College of Law in San Francisco with a joint appointment at the University of California, San Francisco (UCSF) Department of Social and Behavioral Sciences. His writings have spanned both academic and public outlets, with journal articles in the Stanford Journal of Civil Rights and Civil Liberties, the Journal of Law, Medicine, and Ethics, and Trends in Pharmacological Sciences along with commentaries in Slate, Los Angeles Times, Boston Globe, San Francisco Chronicle, and New Scientist"> among others. He contributes regularly to CGS's blog Biopolitical Times and is the former director of CGS's Project on Bioethics, Law, and Society. Obasogie received his B.A. with distinction from Yale University, his J.D. from Columbia Law School where he was a Harlan Fiske Stone Scholar, and his Ph.D. in Sociology from the University of California, Berkeley where he was a fellow with the National Science Foundation.
Diane Beeson, PhD, is Professor Emerita of Sociology, California State University, East Bay. Over the past three decades, she has conducted research and published in leading sociology and medical journals on prenatal diagnosis, genetic testing, and social challenges of new reproductive technologies. Her most recent publications are on issues related to third-party reproduction. Beeson is co-founder and Associate Director of the Alliance for Humane Biotechnology, a network of scholars, students and activists working for a biotechnology that places the health and welfare of people and the natural environment above financial interests. In this capacity she has testified before state and national legislatures, and advocated for women's and children's health and human rights. She received her PhD from the University of California, San Francisco, where she specialized in medical sociology.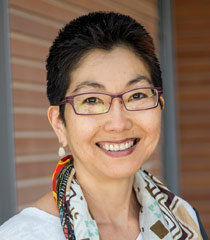 Lisa Ikemoto, J.D., LL.M., is Martin Luther King, Jr. Professor of Law at the University of California, Davis. She teaches bioethics, health care law, public health law, reproductive rights, law & policy, and marital property. Her research areas include reproductive and genetic technology uses, health care disparities, and public health law. More specifically, she focuses on the ways that race and gender mediate access to and impacts of biomedical technology use and health care. Her recent work addresses reproductive tourism, the ways in which human gamete use links the fertility and biotechnology industries, and the privatizing effects of informed consent. Ikemoto is a Bioethics Associate of the UC Davis Health System Bioethics Program, and a Faculty Associate of the UC Davis Center for Science and Innovation Studies.


Gina Maranto is Director of the Ecosystem Science and Policy undergraduate program and coordinator of the graduate program in Environmental Science and Policy at the University of Miami's Leonard and Jayne Abess Center. She has received awards for innovative teaching from the University of Miami, and is a prize-winning science writer who has covered biomedicine, the environment, and Earth sciences at the national level since 1982. Her articles, opinion pieces, and reviews have appeared in Discover, The Atlantic Monthly, Scientific American, The New York Times, and other publications. She is author of Quest for Perfection (1996), a history of attempts to alter birth outcomes and a critique of new reproductive technologies. Maranto received her M.A. in fiction from The Writing Seminars at The Johns Hopkins University.
Consultants
Jessica Cussins, graduated from UC Berkeley in 2012, earning her B.A. with a major in Sociocultural Anthropology and a minor in Peace and Conflict Studies. As a student, she worked for a non-profit organization addressing the issue of access to scientific education in public schools. Since graduation, she previously worked for CGS undertaking research and analysis of technical and policy developments in human genetic and reproductive technologies, as well as taking the lead on event planning, media, and communications initiatives. She is interested in the intersection of human biotechnologies with society, specifically in how advances in assisted reproductive technologies and genomics blur traditional lines between personal choice, public policy, and market influence, and the implications of these shifts for racial, gender, health, and economic disparities. She is a regular blogger at Biopolitical Times, Psychology Today, and the Huffington Post.
Emily Galpern, MPH is a consultant with 20 years of experience planning and leading trainings and conferences; facilitating groups of adults and young people; developing materials for educational or advocacy purposes; and researching complex topics for written documents. She has worked extensively with women, young people, immigrants, people of color, LGBTQ people, and people with disabilities. Areas of expertise include the intersection of bioethics with reproductive health rights and justice; building bridges between social justice movements; as well as health disparities and inequities in public health and youth development. Clients and partners have included community-based organizations, movement-building organizations, universities, government agencies, policymakers, health systems, and unions. She received her BA in Women's Studies from the University of California at Santa Cruz and her MPH from San Francisco State University.

Pete Shanks MA, attended Oxford University, where he studied Philosophy, Politics and Economics, and moved to California in the mid-1970s. He has been active in a range of local and international political movements, while mostly making his living in the publishing industry, especially on the production side; he enjoys the craft of bookmaking. Appalled by the eugenic possibilities of biotechnology, he has worked with the Center for Genetics and Society since its earliest days. He is the author of Human Genetic Engineering: A Guide for Activists, Skeptics, and the Very Perplexed (Nation Books) and a regular contributor to Biopolitical Times.
Emeritus
Richard Hayes, PhD, was most recently visiting scholar at the University of California at Berkeley College of Natural Resources / Energy and Resources Group. He was founding executive director of the Center for Genetics and Society, serving in that role from 2001 through 2012. He has written and spoken widely concerning democratic governance of science and technology, economic inequality, and the need for social oversight of the new human biotechnologies. Hayes has been active in social and political organizing since his student days at UC Berkeley in the 1960s. In the 1970s he worked as a community organizer with a wide range of progressive organizations. In the early 1980s he served as executive director of the San Francisco Democratic Party and ran the electoral field operations for the late Congressmembers Phillip Burton and Sala Burton. From 1983 through 1992 he served on the national staff of the Sierra Club, first as assistant political director and then as national director of volunteer development. In the early 1990s he was chair of the Sierra Club's Global Warming Campaign Committee. In 1999 he began the work that lead to the creation of the Center for Genetics and Society in 2001. He holds a PhD in Energy and Resources from the University of California at Berkeley. His current website is For A Human Future.